Spoil your mom for Mother's day or her birthday (or whatever the occasion) with one of these adorable DIY gifts for mom. Because what gift can be more meaningful than one you made yourself?
Whether you don't know what to get your mom as a gift, or you simply feel that a store bought gift isn't enough, you cannot go wrong with a handmade gift. They're much more personal because you actually have to spend time thinking about and making the gift. It's not something you can just quickly pick up from the shop.
Since Mother's day is coming up, I started looking for DIY gift ideas and decided to compile some of my favorite gift ideas into a post. I'm not sure which one I'll be making yet, but hopefully this can help you out too! Let me know if you've got some other great ideas of what would be awesome gifts for moms.
18 Handmade DIY Gifts For Mom
To view the full tutorial or guide for any of these gifts, please follow the link below the specific image. Hope you enjoy making these!
1. Passion Tea Sugar Scrub
Treat Mom to this sweet-smelling citrus and passion fruit spa treatment. She'll instantly feel like she's on a mini tropical vacation.
2. Tiny Photo Magnets
You know how moms love old photos. Why not go through some of your childhood photos and pick a few favorites to turn into these adorable magnets?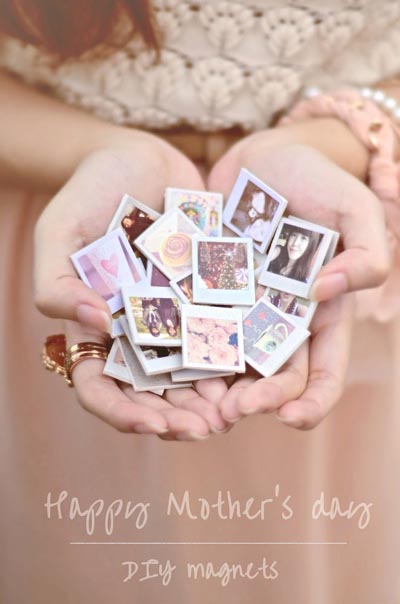 3. DIY Gemstone Soaps
Yep, these beautiful gemstones and crystals are actually soaps! They are ridiculously fun to create and make for impressive gifts.
And if you're looking for more soap gift ideas, I've got this great post about adorable homemade soap you can make.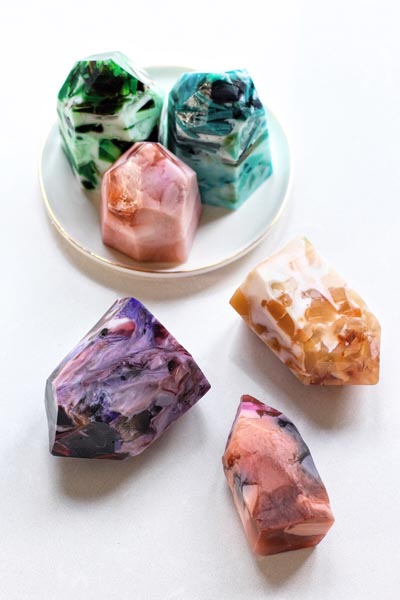 4. Cozy Arm Knit A Blanket
Who doesn't love a cozy blanket? Now you can knit a blanket for your mom in just 45 minutes using your arms as the needles!
5. Simple DIY Mother's Day Planter Gift
If your mom loves plants, this is a simple but cute gift for her. Just download and print the label of your choice, wrap it around a container then plant your mom's favorite plant in it. Simple, green, and perfect for Mother's day!
6. Easy Cork Trivets
For the moms who love entertaining and impressing her guests, these cute trivets could be just what she needs.
7. Cozy Slippers Gift Idea
A cute and easy gift for your mom that you can make last minute. All you need is some cute cozy slippers and then some of her favorite treats. Simple, practical and adorable!
8. Child's Handprint Clay Jewelry Dish
Create a keepsake hand print jewelry dish out of clay using your hand. They're easy to make and are a darling gift idea to keep in mind for Mother's Day. These sweet little dishes are guaranteed to melt any Mom or Grandma's heart.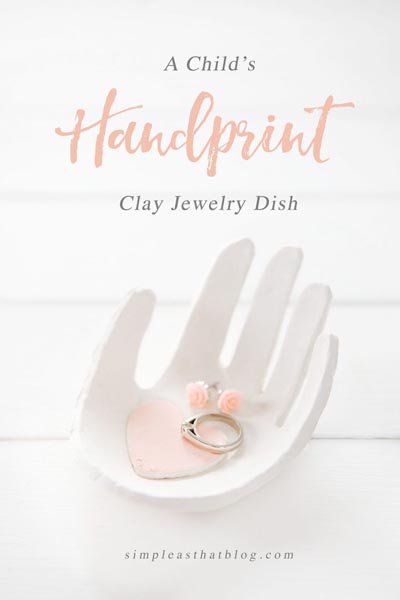 9. Homemade Lavender Milk Bath
Treat your mom to the rest and relaxation she deserves with this DIY luxurious milk cleanser.
The powdered milk moisturized skin while the lavender gives off the most calming scent, creating the ultimate bath experience.substitutes.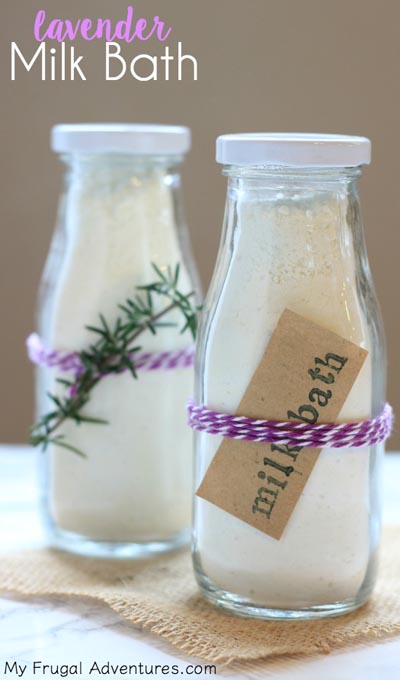 10. Pretty Chocolate Bark for Mother's Day
Edible flowers and glitter, white chocolate pearls, and pastel-dyed white chocolate all make an appearance in this gorgeous bark.
Make a batch to give to mom, or if you're a mother make some for yourself because you deserve it.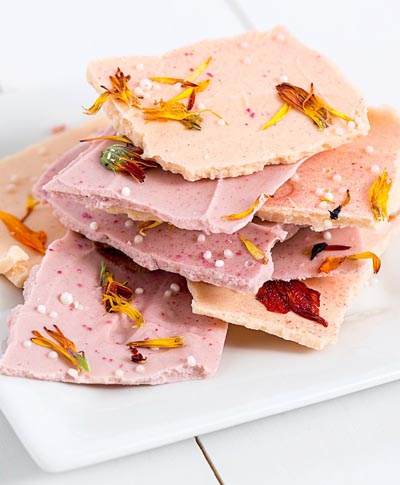 11. Pounded Flower Tote Bag
Did you know that you can dye fabric by pounding flowers? This unique flower tote bag makes a perfect Mother's Day gift – and the kids will love creating it!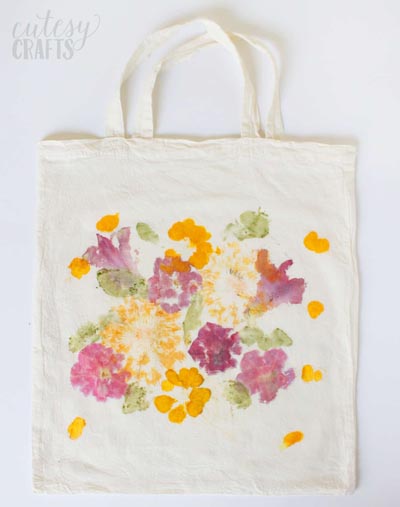 12. Pressed Flower Art
If you want to give your mom flowers but don't want to opt for the usual bouquet, why not try your hand at this cute piece made of pressed flowers?
13. Lavender Sachets
Lavender sachets make excellent handmade gifts!
They can be made to match anyone's style from modern to vintage, and they are the perfect way to use up small fabric scraps. Not to mention they smell amazing!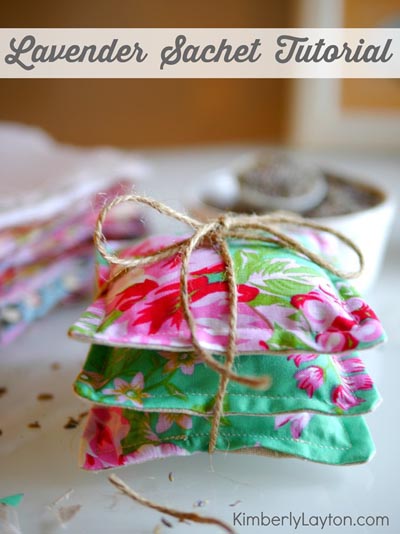 14. Marbled Clay Ring Dish
If your mom has a lot of jewelry lying around, why not make her some of these cute clay ring dishes? There's a video tutorial included so you can see how easy it is to make these.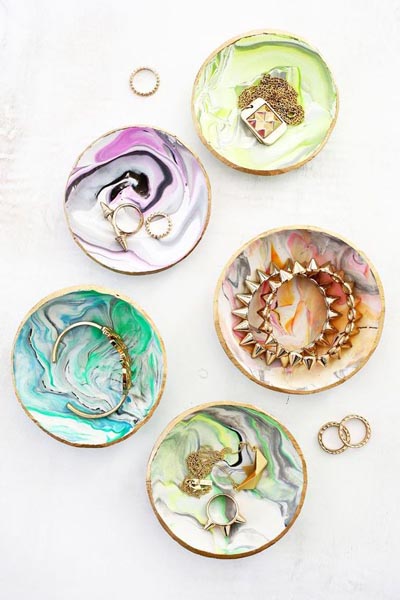 15. Personalized Cheese Tray
How adorable is this personalized cheese tray!? A fun way to present this awesome gift to your mom is to serve her breakfast in bed.
16. DIY Gilded Photo Ornaments
Keep old memories alive with these cute photo ornaments. And these aren't necessarily for Christmas, leave them hanging from Mom's nightstand drawer or on empty coat hooks.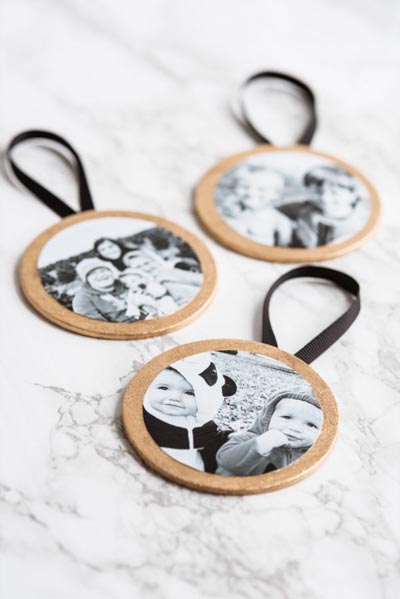 17. DIY Balsa Wood Planters
These little succulent planters are so easy and the perfect little spring DIY to add some color to your mom's home decor.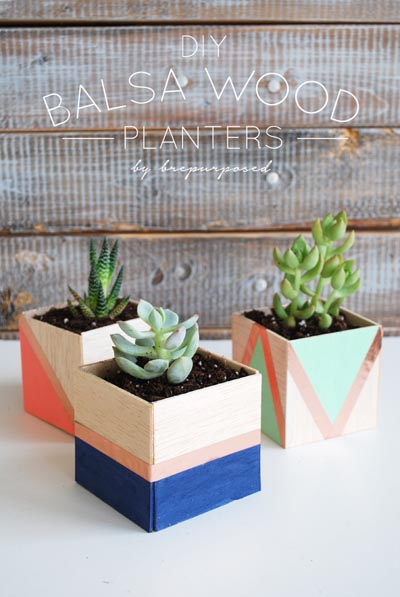 18. DIY Marbled Mugs With Nail Polish
Did you know you can make cool marbled mugs with nail polish? It's easy and you can have gorgeous gifts in minutes. These DIY nail polish mugs cost LESS than a dollar each!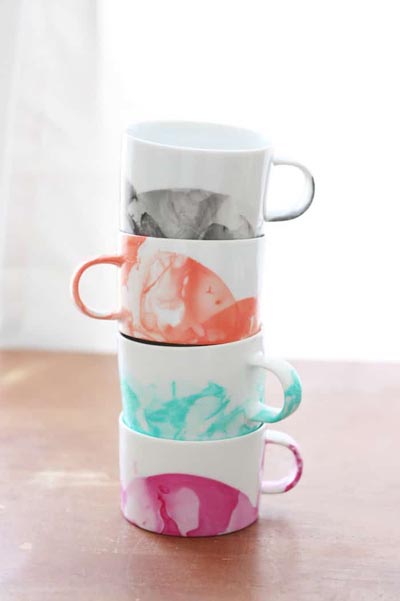 Looking for more gift ideas? Then you will love these (I know some of them are seasonal, but you can definitely customize them for any occasion):
Pin these Handmade DIY Gifts For Mom for later!
If you enjoyed these handmade and DIY gifts for mom ideas, please take a moment to pin it to your gift ideas board on Pinterest. That way you can always come back to this post later when you need inspiration for gifts.